Commercial waste removal in North London is done by Elsony Waste Removal Ltd in an environmentally friendly manner, minimizing the impact on our planet.
Commercial Waste Removal Services in North London
Elsony Waste Removal Ltd understands the importance of efficient and convenient waste removal for businesses in North London. That's why we offer skip hire services that make disposing of commercial waste a breeze. With our reliable and professional team, you can trust us to handle all your waste removal needs.
Living in a bustling city like North London means businesses generate a significant amount of waste on a daily basis. That's where we come in. Our sustainable solutions ensure that your waste is disposed of in an environmentally friendly manner, minimizing the impact on our planet.
Maintaining a clean and organized workspace is crucial for productivity and professionalism. Our waste removal services can help you achieve just that. By properly disposing of your waste, you create a clean and welcoming environment for both employees and clients.
Don't let waste pile up and become a burden. Choose our waste management company for efficient and hassle-free commercial waste removal in North London. Let us handle your waste, so you can focus on what matters most – running your business smoothly.
Areas We Cover
Skip Hire Services for Commercial Waste Disposal
Skip hire services are a convenient option for waste disposal in North London, offering residents and businesses a hassle-free solution for getting rid of their business waste. When it comes to managing waste, it's important to choose a reliable and efficient service provider. With skip hire services, we can easily dispose of our waste without any inconvenience. These services provide us with different sizes of skips, allowing us to choose the one that best suits our needs.
One of the main benefits of skip hire services is the convenience they offer. We don't have to worry about transporting our waste to a disposal facility ourselves. The skip hire company will deliver the skip to our desired location, and once it's filled, they will collect it and dispose of the waste properly. This saves us time and effort, allowing us to focus on other important tasks.
Moreover, skip hire services are environmentally friendly. The waste collected in the skips is taken to licensed facilities where it is sorted and recycled whenever possible. This helps in reducing the amount of waste that ends up in landfills, promoting a greener and more sustainable approach to waste management.
In addition, skip hire services are cost-effective. Instead of purchasing or renting expensive equipment for waste disposal, we can simply hire a skip at a reasonable price. This makes it a cost-efficient solution for both residents and businesses in North London.
Overall, skip hire services provide a convenient, environmentally friendly, and cost-effective way to manage trade waste in North London. With their help, we can easily and responsibly dispose of our waste, contributing to a cleaner and healthier environment.
Commercial Waste Management Companies in North London
There are several waste management companies in north London that can help businesses effectively manage their commercial waste. Whether you need regular collections, recycling initiatives, or specialized services, these companies offer reliable and eco-friendly solutions to meet your needs. Explore the local options for managing your business waste in the vibrant neighborhoods of north London. When it comes to commercial waste management companies in this area, there are several reliable choices to consider. These companies specialize in providing efficient and eco-friendly solutions for commercial waste removal.
The best of these companies is Elsony Waste Removal Ltd, which offers a range of services tailored to meet the specific needs of businesses in north London. Their team of experts is dedicated to ensuring that waste is disposed of responsibly and in compliance with all regulations. With their convenient collection schedules and competitive prices, they make it easy for businesses to keep their waste under control. They offer a comprehensive commercial rubbish removal service, including regular collections and recycling initiatives. Their experienced staff are knowledgeable about the best practices for waste management and can provide helpful advice on reducing waste and improving sustainability. Their team of experts can also help businesses implement efficient commercial garbage removal practices and provide ongoing support to ensure compliance with regulations.
Other Service Areas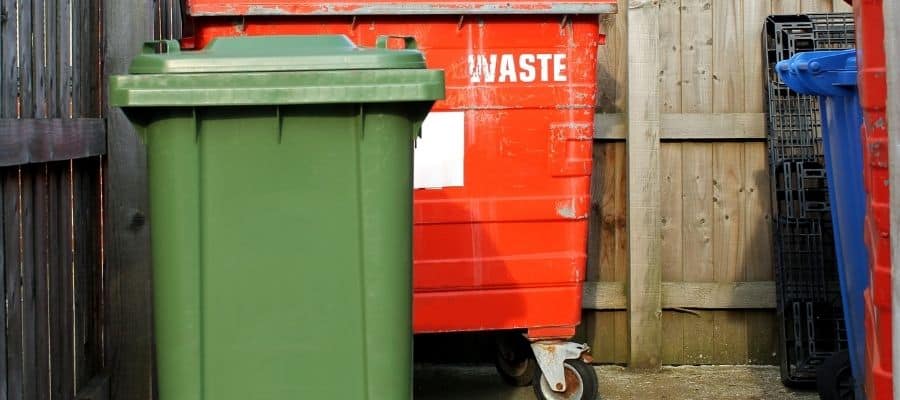 Sustainable Solutions for Commercial Waste Removal
When it comes to managing your business waste in the vibrant neighborhoods of north London, there are sustainable solutions available for eco-conscious entrepreneurs. We understand the importance of reducing our carbon footprint and minimizing the impact of waste on the environment. That's why we offer a range of sustainable options for commercial waste removal.
One of our main solutions is recycling. We have partnered with local recycling facilities to ensure that as much waste as possible is diverted from landfills. Our team is trained to separate recyclable materials from general waste, making the recycling process efficient and effective.
Another sustainable solution we offer is composting. Organic waste from your business can be composted and turned into nutrient-rich soil. This not only reduces waste but also contributes to a healthier environment by promoting sustainable agriculture.
In addition to recycling and composting, we also encourage businesses to implement waste reduction strategies. This includes reducing packaging waste, using reusable materials, and promoting a culture of sustainability within the workplace.
By choosing our sustainable solutions for commercial waste disposal, you can contribute to a greener future for north London. Together, we can make a positive impact on the environment and create a more sustainable and eco-friendly business community.
Tips for Maintaining a Clean and Organized Workspace
To keep your workspace clean and organized, it's essential to declutter regularly and create designated areas for different tasks and supplies. By decluttering, you can get rid of unnecessary items and create a more efficient and productive environment. Start by going through your workspace and identifying items that you no longer need or use. This could include old papers, broken equipment, or outdated supplies. Dispose of these items properly, either by recycling or throwing them away.
Once you have decluttered, it's important to create designated areas for different tasks and supplies. This helps to prevent items from getting mixed up and makes it easier to find what you need when you need it. For example, create a designated area for office supplies such as pens, paper, and staplers. Another area could be designated for important documents or files. By keeping everything in its designated place, you can minimize the chances of misplacing or losing important items.
Additionally, it's important to establish a system for organizing your workspace. This could involve using folders, labels, or storage containers to keep everything in order. Regularly clean and wipe down your workspace to maintain a fresh and tidy environment. Encourage all employees to follow these practices to ensure a clean and organized workspace for everyone.
FAQ About Commercial Waste Removal
How much does commercial waste removal cost in North London?
Commercial rubbish collection costs in North London can vary depending on factors such as the amount and type of waste, frequency of collection, and the service provider. It's best to contact local waste removal companies for accurate pricing information.
What are the regulations for disposing of hazardous waste in North London?
To dispose of hazardous waste in North London, we need to adhere to certain regulations. This includes properly labeling and packaging the waste, arranging for its collection by licensed waste carriers, and ensuring its safe and legal disposal.
Can I schedule a one-time waste removal service or is it only available for regular contracts?
Yes, we offer both one-time waste removal services as well as regular contracts. Our flexible options allow businesses in North London to schedule waste removal services based on their specific needs.
Are there any restrictions on the types of waste that can be removed?
There are restrictions on the types of waste that can be removed. We have guidelines in place to ensure safe and legal disposal of waste. Contact us for more information on what can and cannot be removed.
What is the process for recycling commercial waste in North London?
We recycle commercial waste in North London by following a simple process. First, we collect the waste from your premises. Then, we sort and separate recyclable materials. Finally, we send them to recycling facilities for processing.
Commercial trash collection in North London can be made easier with the help of skip hire services and business waste collection companies. By adopting sustainable solutions and keeping our workspaces clean and organized, we can contribute to a healthier environment and improve the efficiency of our businesses. Let's make a conscious effort to dispose of waste responsibly and maintain a clean workplace for a better future. Together, we can make a difference.